Honors Theses Supervised:
If you are a William & Mary undergraduate interested in a reading course, independent study or working on a research project, feel free to email me. I am particularly interested in the following topics:


Noncommutative Geometry: a powerful theory with many applications, including:

The study of quantum spaces
The Standard Model of elementary particles
Number Theory
Ergodic Theory
...




Harmonic Analysis: a generalization of Fourier series involving group theory and linear algebra, with applications to:



Number Theory
Signal processing
Classical and Quantum Physics
The shape of musical instruments
...

History and Philosophy of Mathematics



The topology of space-time (T. Maudlin's approach)
Mathematical ideas in philosophical texts
Infinities and paradoxes
...
Past activities
Reading courses
Topology
Abstract algebra
Student seminars
Maudlinear structures and the topology of space-time
Applications of group theory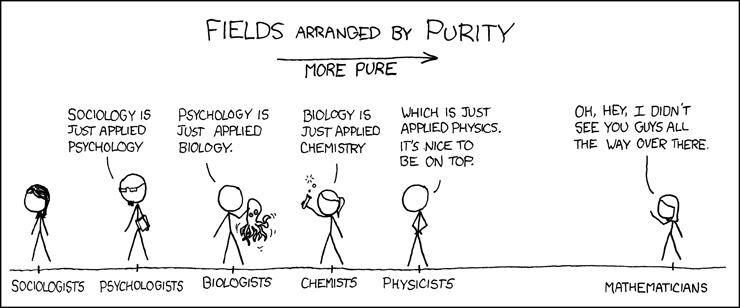 The cartoons above are from xkcd.com.
Last modified on September 20, 2023.